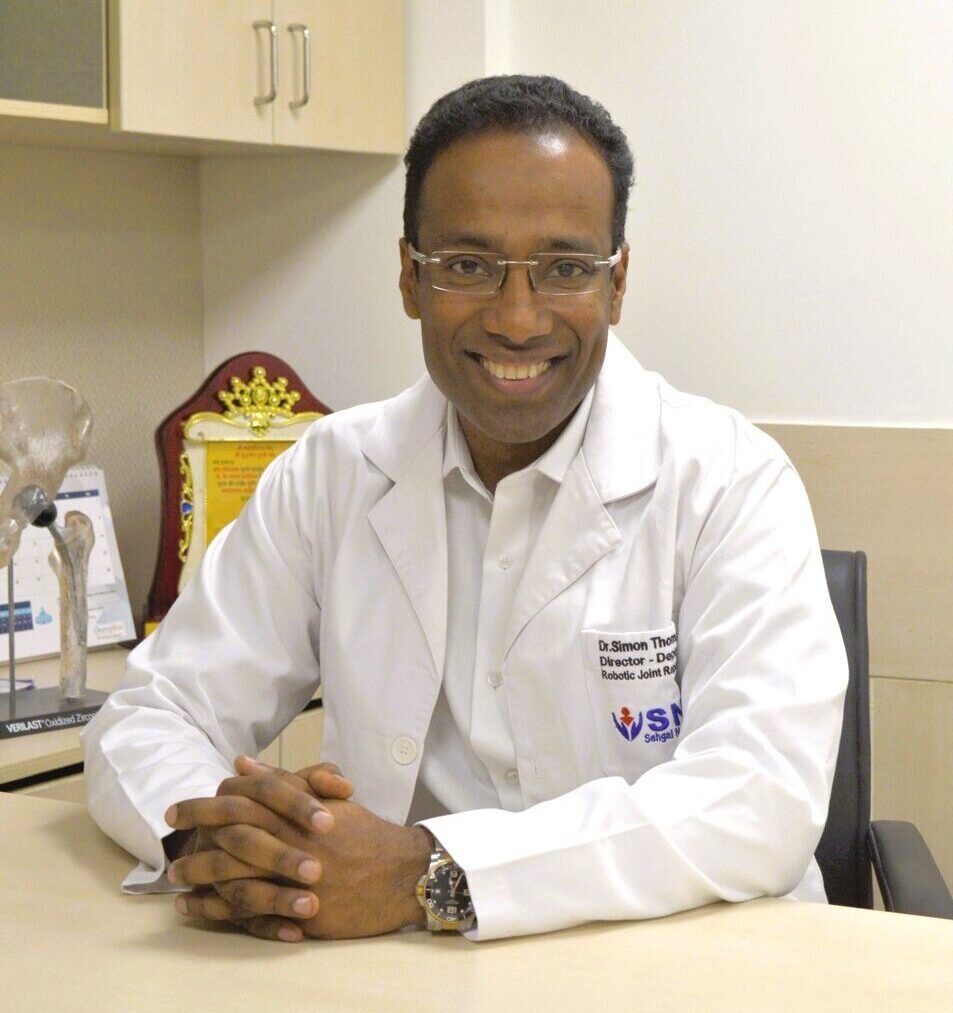 Know your surgeon
Dr Simon Thomas
---
Dr. Simon Thomas is an eminent Joint Replacement and Orthopaedic Surgeon in New Delhi. He leads the arthroplasty team at the prestigious Sehgal Neo Hospital, Paschim Vihar at New Delhi. He and his team have been extensively trained at various centres of excellence in India and abroad including Germany, Korea, and Singapore.
He specialises in Primary and Complex Joint Replacement of Knee, Hip, Shoulder and Elbow with experience of more than 10,000 joint replacements with excellent results. He is one of the few surgeons in India who have been trained to do revision joint replacement surgeries with more than 1000 complex revisions under his belt. Revision of infected joints is there forte and they have salvaged numerous such joints which have been deemed unsalvageable.
He and his team has a keen interest in academics, they have been grooming young surgeons and training them in the art of joint replacement surgery for more than 10 years, have more than 30 academic publications and have also authored many popular books on joint replacement.
He is a Senior Orthopaedic Joint replacement Surgeon who has been practicing Orthopaedics since 2003. The finesse in his work is attributed to his long professional associations with stalwarts in the field of orthopaedic surgery, like Dr. Shekhar Agarwal, Padma Vibhushan Prof. Balusankaran and Dr. Mathew Varghese. He has spent more than a decade working with Dr. Shekhar Agarwal specialising in Knee Replacement, Hip Replacement and Revision Arthroplasty. As a part of this prestigious team, he has been performing complex Joint Replacement Surgeries and revision Joint Replacements for the last decade and more. He was introduced into Orthopaedics by Padma Vibhushan Prof. Balusankaran at St. Stephens Hospital, Delhi. The years that he spent there made him proficient in managing complex trauma and limb reconstruction.
His overseas training has been mainly about treating complications related to Joint Replacements. Dr. Simon Thomas holds prestigious foreign fellowships in Revision Arthroplasty (Joint Replacement Surgeries). He has worked in the famous Endo Klinik at Hamburg, Germany where he honed his surgical expertise in the art of Revision Joint Replacements. It's here that he learnt the management of infected joints. He introduced the German style of radical debridement and two stage revision technique for periprosthetic joint infection. This technique has given nearly 100 percent cure for periprosthetic infection.
He is the recipient of the notable AO Trauma Fellowship in Pelvic and Acetabular Surgery at the AO Trauma Center, University of Saarland Medical School, Homburg, Germany. In a nutshell, these overseas fellowships helped him to bring the modern and international surgical techniques to India. He is coauthor of the Best Selling Books 'Primary Knee Arthroplasty' and 'A Beginners Guide to Total Knee Replacement'. He has written these books for the young and budding orthopaedic surgeons who want to learn fine art of Knee Replacement.
Dr. Simon Thomas is a regular teaching faculty at leading National and International Orthopaedic conferences for training young surgeons. He keeps abreast with state-of-art innovations in the field of Orthopaedics, especially in Joint Replacements.
He has also attended numerous International Conferences in Taiwan and Thailand to represent India's medical approach to the world forum. He has attended Oxford Partial Knee Bioskills Course at Chulalongkorn University, Thailand.
Dr. Simon Thomas is a recognized Post Graduate Faculty and Examiner for the National Board of Examination. He has post-graduate students undergoing training and writing thesis under his supervision for the DNB degree in Orthopaedics. His post graduate teaching includes giving formal lectures and providing clinical teaching in the wards and outpatient clinics. He also holds weekly meetings to discuss patient cases with DNB students of Orthopaedics. In addition, he also mentors fellows in joint replacements. The fellowship in joint replacements under him is coveted and it enrolls young budding joint replacement surgeons from across the country.
Dr. Simon Thomas showed immense talent in academics from the beginning of his career. He actively publishes his scientific work in reputed National & International journals of Orthopaedics.
Dr. Simon Thomas is a recipient of Delhi Star Award for his excellent services to the field of medicine in 2019. He is the recipient of the prestigious R.C. Rallan Memorial Gold Medal for the Best Research Paper on 'Clinical and Histopathological Evaluation of Non-Healing Ulcers of the Foot'. This gold medal is awarded by the Indian Orthopaedic Association (IOA) for best original research.  He was also awarded by the Indian Society of Hip and Knee Surgeons (ISHKS) for presenting the 'Reconstruction of Femoral Bone Defects in Revision Total Hip Replacement Techniques and Outcomes' at 10th Annual Conference of the Indian Society of Hip & Knee surgeons' at Chennai.
His consistent endeavour to stay upto date and his compassion for his patients is part of his journey of service in the field of Orthopaedics and Joint Replacements.
Connect with Joint replacement surgeon Dr. Simon Thomas
Dr.Simon Thomas Robotic Joint Replacement Centre KP-4, Pitampura, Gopal Mandir Road, New Delhi (Near City Park Hotel)
Tuesday: 05:00 PM – 08:30 PM
Wednesday: 03:00 PM – 05:00 PM
Thursday: 05:00 PM – 08:30 PM
Friday: 05:00 PM – 08:30 PM
Sehgal Neo Hospital (Meera Bagh, Paschim Vihar, New Delhi)
Monday: 03:00 PM – 05:00 PM
Tuesday: 12:00 Noon – 03:00 PM
Thursday: 12:00 Noon – 03:00 PM
Saturday: 12:00 Noon – 03:00 PM