Complex Primary Joint Replacement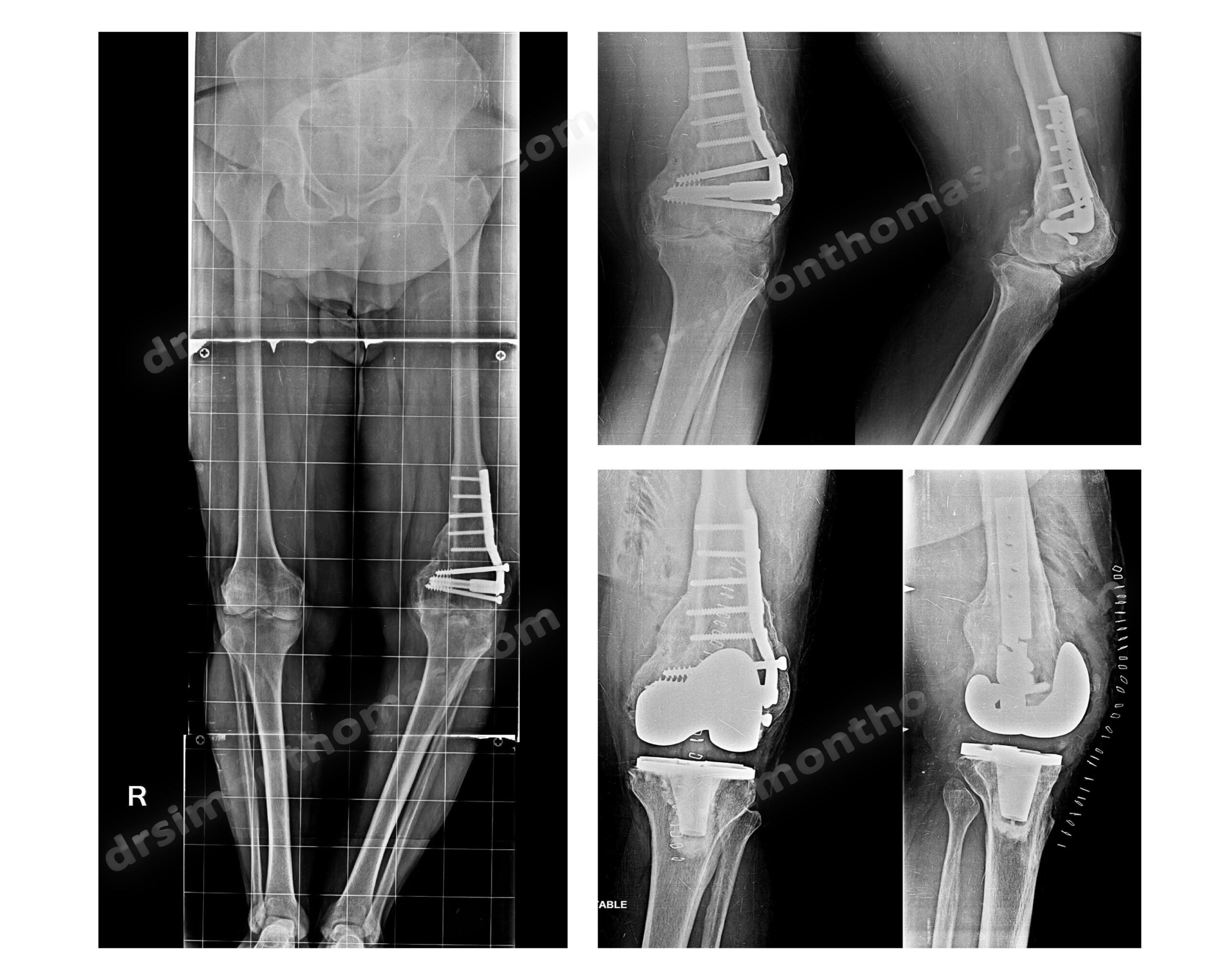 Mr. Verma – Complex Primary with Femur DCS in situ
Mr. Verma, 61 year old gentle man had a peculiar problem with his left knee. The patient had sustained a fracture in his knee in 2006 for which he was operated and an implant was put in the knee for fracture fixation. His patella (knee cap) bone also had to be removed as it was shattered in the injury.
The patient came to us with long standing knee pain, difficulty in walking, restriction of knee movements and marked deformity. His Xray showed an arthritic knee with a broken implant.
The challenges in performing a total knee replacement in such a case are due to presence of previous implant that make placing jigs and knee components technically demanding, dealing with previous incisions in the skin, and absence of patella bone which plays a very important role in knee function and strength.
We successfully performed a minimally invasive knee replacement without disturbing the previous implant by using a special technique. This allowed minimal dissection, lesser bone loss and lesser blood loss and hence faster recovery. We also used a special approach so that the absence of patella bone will not affect his recovery.
The patient walked with support the very next day with pain-free movement of the knee.
Single Stage Revision TKR
Mr. Mishra, 54 years old gentleman had undergone total knee replacement of both knees in 2014 at some other centre. For 2 years, he was having pain and limp in his right knee.
His X-ray showed a loose and displaced implant with bone loss in the knee.
He came to us and we planned him for a Revision knee replacement. His knee did not show any redness or gross swelling. But, we still ruled out infection by blood tests and aspirating the fluid from the knee and getting it screened. All infection markers were negative so we decided to perform a single stage knee replacement.
The challenges in this case were that the implants were loose and had eaten away the bones of the knee so much so that there was a fracture where the implant penetrated the bone.
We operated him and reconstructed his knee using a special hinged knee implant. We built up the bone defect with augments on both sides of the knee and gave him a stable knee.
The patient walked with support on the next day of surgery and had more than 90 degrees knee movement at discharge.
In time to come, more and more knees shall come for revision as primary knee replacement pick up. We perform numerous such surgeries with precision and restore painless mobility to our patients.
Book Appointment as per OPD schedule
Dr.Simon Thomas Robotic Joint Replacement Centre KP-4, Pitampura, Gopal Mandir Road, New Delhi (Near City Park Hotel)
Tuesday: 05:00 PM – 08:30 PM
Wednesday: 03:00 PM – 05:00 PM
Thursday: 05:00 PM – 08:30 PM
Friday: 05:00 PM – 08:30 PM
Sehgal Neo Hospital (Meera Bagh, Paschim Vihar, New Delhi)
Monday: 03:00 PM – 05:00 PM
Tuesday: 12:00 Noon – 03:00 PM
Thursday: 12:00 Noon – 03:00 PM
Saturday: 12:00 Noon – 03:00 PM