During Robotic Knee Replacement, surgoeons utilise robotic systems with traditional knee replacement procedure. The robotic platform works as a tool to assist robotic knee surgeon in executing the procedure with more precision and care. Three-dimensional imaging and real-time data, allow more accurate results and lead to higher rates of successful surgery.
CT scan is performed on the patient's knee to develop a three-dimensional model. This model serves as the foundation for creating a surgery plan, taking into account the patient's anatomy and alignment along with the biomechanics
Robotic Knee Replacement enables nuanced selection of implants. The 3-D modeling enables surgeons to choose suitable implant size, shape, and alignment for patient reducing the risk of complications, such as implant wear or instability.
Why you should go for Robotic Knee Replacement?
Robotic Knee Replacement Surgery improves patient outcome and faster recovery times. Studies show robotic-assisted knee replacement results in less blood loss and lower risk of complications.
Robotic assistance influences rehabilitation positively too. With accurate implant placement and alignment, patients find it easier to regain natural joint movement and function during rehabilitation.
Dr Simon Thomas is the only doctor in Delhi to provide robotic knee replacements with a fully active robot.
How Robotic Assisted Knee Replacement Surgery Works?
The robot-assist arthoplasty system provides robotic assistance through an advanced computer program that relays precise information about your knee to a robotic arm used by the surgeon during the procedure. By collecting patient-specific information, boundaries are established for the robotic arm so the surgeon can balance your joint and position components with accuracy and precision as per the surgeon-defined plan. The robots help us with the pre-surgical planning and saving time and ensuring minimal blood loss.
Total Knee Replacement with Computer Assistance< has been designed to ensure consistent and accurate results. Robotics-Assisted Arm for Knee Replacement delivers the power of robotics into the surgeon's skilled hands.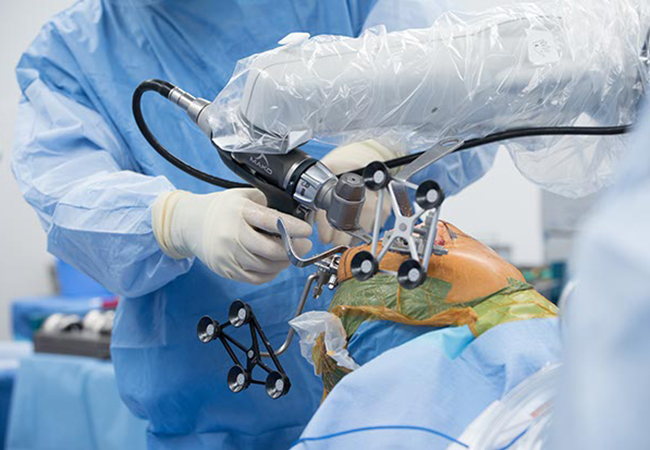 Book Appointment as per OPD schedule
Dr.Simon Thomas Robotic Joint Replacement Centre KP-4, Pitampura, Gopal Mandir Road, New Delhi (Near City Park Hotel)
Tuesday: 05:00 PM – 08:30 PM
Wednesday: 03:00 PM – 05:00 PM
Thursday: 05:00 PM – 08:30 PM
Friday: 05:00 PM – 08:30 PM
Sehgal Neo Hospital (Meera Bagh, Paschim Vihar, New Delhi)
Monday: 03:00 PM – 05:00 PM
Tuesday: 12:00 Noon – 03:00 PM
Thursday: 12:00 Noon – 03:00 PM
Saturday: 12:00 Noon – 03:00 PM